AL's YZF 600 Thundercat Back wheel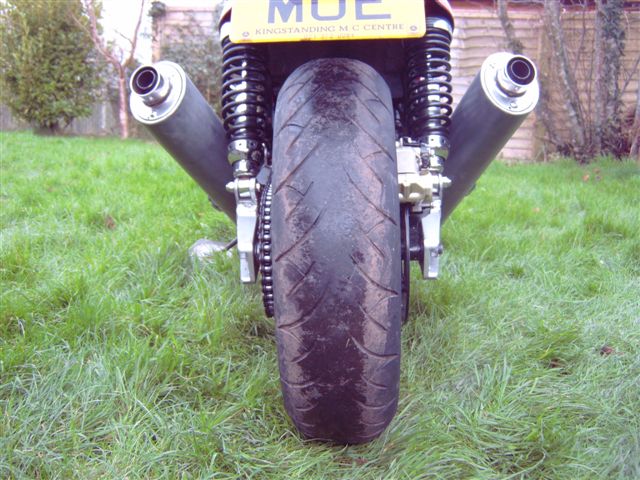 Back end with the 160 tyre, the tyre needs changing but that can wait.
The back end is 100 times more sure footed now and feels confident.
I might go for a 170 tyre when i change it, there is loads of clearence
from tyre to chain.....well, about 10mm if i'm honest.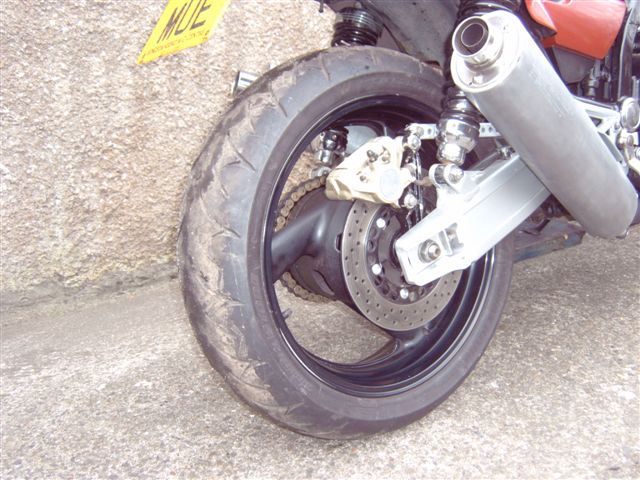 The YZF 600 Thundercat wheel ( year 2000 ) I got for the back end to go in
the Thunderace swingarm.
Its a 5 inch rim with a 160 X 17 tyre on it .
I wanted a Thundercae wheel, but couldn't find or afford one, the Thundercat
wheels are usually a lot cheaper to buy in.
The disc is Thundercat, this is a problem as the FZX caliper bracket will not
fit, so you need an early model Thundercat or an FZR 600 R (3he ) bracket,
which is about 20mm shorter.
You can easily run into serious problems with wheel spindles on these,
They range from 18mm to 28 mm over production years, so make sure
you pick up the spindle with the wheel when you buy one.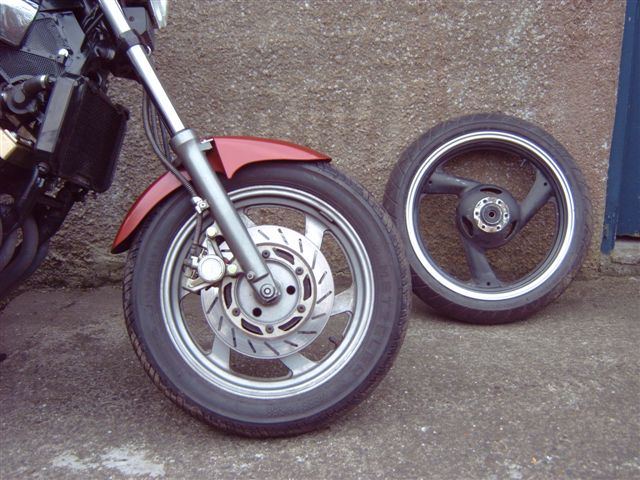 Front wheel is an FZR 600 R wheel, its a 110/ 70 / 17.
As its a 110 mm wide wheel, it is exactly the same width as the FZX front,
so no problems with spacers and stuff to pack it out in the forks.
Big major headache with this wheel though,
Its supposed to have 300mm discs on it, the FZX is a 265mm disc.....!!!!
The FZR 750 forks I have take a 265mm disc.
We are just looking at ways around this at the moment, it either going
to be a smaller disc ( if i can find the right model FZR )
alter the calipers to come out off the forks.
change the forks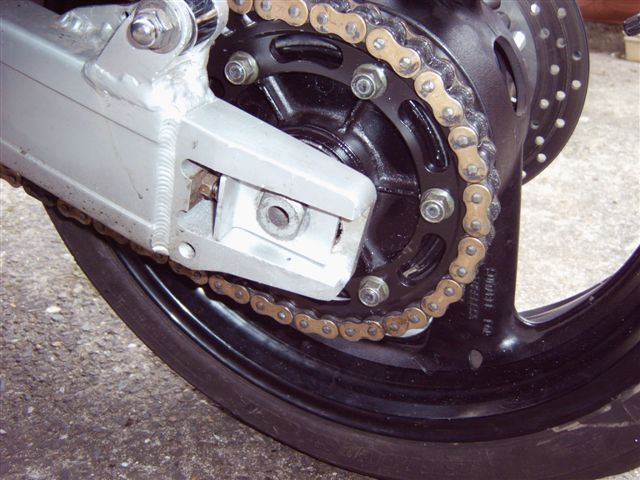 The sprocket on the Thundercat wheel was a 48 tooth,
no good at all if i want to re -use the gold link chain i have.
So a new 39 tooth sprocket was bought from Wemoto for £20 and you have
to buy a YZF 750 SP sprocket ( number 85939 ).
Satinblack was after a 48 sprocket, so i did a deal with the excellent fellow
and he bought me a caliper bracket off ebay and we've just swapped parts.
More To Follow !